About the Frye Carson Boot (Original Style):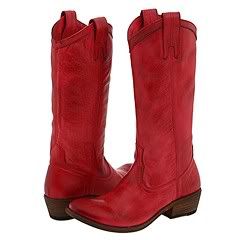 **Sorry – this boot is no longer available
This year has been a rather amazing one when taking a good look at the Frye collection for women – the Frye Carson boot styles are not an exception to this!  In fact, we here at The Fashion Fiend have dubbed 2009 as "The Year of the Carson"!
What's so special about this particular boot this year?  This boot appears to have spurred on a fashion trend that had only gotten a tiny bit warm – now it's quite hot!  The trend I am talking about is the western boots trend for women – of course this style of boot is always "in" but even more so these days.
The Carson boot is one of the more well defined boots – and since it's original release there are quite a number of different styles in this single line of boots to choose from — in addition to the original there is the "Perf" or perforated style slouchy boot, the Harness style, Shortie and more.
If you are looking for a style in the Carson collection that is not shown on this page, check the search feature on this site or the "Frye" link under categories for different styles in the Frye Carson boot collection – we are consistently featuring updated styles of this boot in all of it's glory!