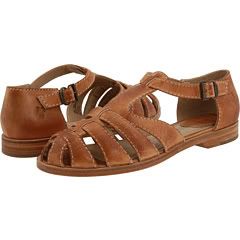 About the Frye Julie Fisherman Sandal for Women:
The Frye Julie Fisherman is a great new addition to the women's spring and summer Frye collection for 2011!  This shoes has a fun "fisherman" sandal style (which has an earthy look in itself) – but with some feminine touches.  These are the perfect "go (just about) anywhere" sandals for this year.
Details: This is a fisherman sandal – a great choice for spring and summer wear.  It has a more feminine look than other similar styles.  Ankle strap with a buckle closure, leather upper, leather outsole.
Sizing: Available in full and half sizes, various size ranges available based on merchant selection
Dimensions: Heel height 3/4 inches
Colors: Veg (Vegetable) Tan Leather
Compare prices on available colors – Frye Julie Fisherman Sandal. (Note: Multiple colors may be available for single listings.)
Reviews: Click here for any reviews on this sandal, or to write a review
Shopping Info: The best place that we have found for the Frye Julie Fisherman sandal is Zappos.com.  Other resources online may come available – when they do, they will be added to listings above.  (Check the above selection for a good look at who carries this sandal, and for what price.)
Price Checker Link:  Find it @ eBay.com
No related posts.