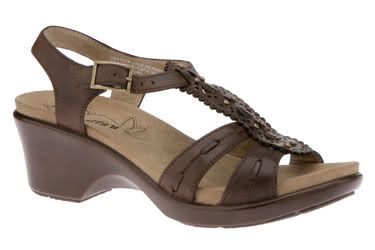 About the Umberto Raffini Nella:
One of the cutest things about the Raffini Nella is the vamp – it has lovely perforations and studding up the vamp to make this a lovely style for women.
Details: Leather upper, perforated and studding detail vamp.  Comfortable footbed and memory foam sole for a custom and much more comfortable wearing sandal.  Rubber outsole for flexible wear, adding to the overall comfort of the sandal.
Dimensions: 1.35 inch heel height
Colors: Dark Brown, Black
Sizing: Available in sizes from women's 5 to 11 1/2
Shopping info:  Sorry – we are no longer able to find this sandal from our online merchants.  Check the link below for more shopping options…
Price checker link: Look for this sandal on eBay.com