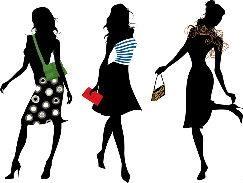 The Fashion Fiend website was created with shoppers in mind that love "the best" in casual fashion and also appreciate getting great deals on what they buy.
The author of the Fashion Fiend concept knows that it is much more fun to get a good look at the choices from various versions and colors of products – as well as finding a truly accurate answer to the question, "Who's selling it for the best price?"
Other websites do offer price comparisons from various merchants, but usually this involves a prior agreement from the merchants to advertise on the websites where the price comparisons are done.
What does this mean? Most often, price comparison websites are already set up with their merchants – they only offer choices from their own personal advertisers or clients.
How is the Fashion Fiend different?  On the Fashion Fiend, there is a personal touch added to the experience of shopping by comparison – there is actually a person "at the wheel," dutifully searching down the merchants who offer the best prices on fashion brands and styles online, then providing what you need to find them quickly and easily — all from a single page!
We hope that you agree that shopping on "The Fashion Fiend" is not only fun, it's easy and can save you a lot of money in the process of shopping for exactly what you want online!
Thanks for visiting!  😀