Compare prices and selection on various shades of Brown UGG Cardy boots for women – get free shipping and returns: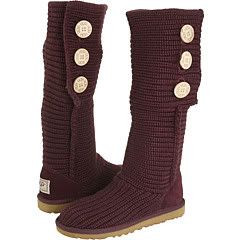 About Brown UGG Cardy Boots:
Brown UGG Cardy boots come in a couple of different shades currently – Fig (shown left), with a hint of red or burgundy to them and Moss (with a darker green color mixed in).  "Stout Brown" and "Oatmeal" are shades that have gone out of production, but they can still occasionally be found (check links toward the bottom of this page for information on this).
Features: Crochet knit stitch wool blend upper, suede heel guard for durable wear.  Sheepskin sock lining wicks away moisture from feet while keeping them snuggly warm.  EVA outsole is light and flexible – also adds durability and long wear.
Dimensions: 15″ height shaft, 15″ circumference (women's dimensions only)
Sizing Info: Available in women's full sizes only for these colors.  These boots are known to run large.  It is recommended to order one full size down (if you wear a full size) or 1 1/2 sizes down (if you wear a half size).  They are made to fit snugly when first put on and will conform to feet for the most comfortable wear.
Price Checker Links for Brown UGG Cardy Boots: