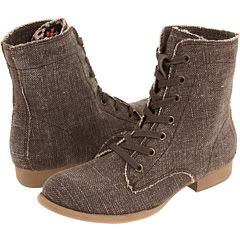 About the Women's Blowfish Java Lace Up Ankle Boot
**Note:  This boot is no longer available from merchants, but you can click here to search for it @ eBay.com auctions.
The Blowfish Java Lace Up Boot is an affordable option in women's lace up boot styles this year.
It not only is more affordable, it might just be more interesting and unique with a canvas upper with a fun sort of "roughed up" look.
Dimensions: Shaft 6.5″, Heel height 1″, circumference 11″
Colors: Black, Dark Brown and Rust Roughout colors
Sizing: Available in full and half sizes from 6 to 10 womens.
Shopping: A good place to buy these is at Zappos.com.  Endless.com is another good option – and we have found them at other markets for marked down prices.  Check listings on this page for the top merchants who carry it, what they have in stock and for what price.
(Note:  Any Endless.com listings will likely have multiple color choices for single listings on this page.)
Price Checker Link: Click here to find this boot @ eBay.com auctions