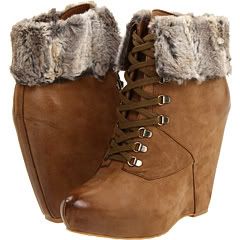 The Women's Boutique 9 Daphnea Boot
Here is a gorgeous platform wedge boot to cozy up in for the winter months – the Boutique 9 Daphnea.
Constructed from leather for the upper, having a faux fur collar that can be worn down for an ultra chic look or worn straight up for a different style.  It features a hidden platform and a nice high heel for quite a boost in height.  Lovely.  =)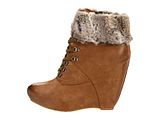 Colors:  Black, Brown (shown in photo)
Sizing:  Available in both full and half women's sizes from 5 1/2 to 11
Dimensions:  Heel height 4 inches, platform height 1 inch, shaft height 5.5 inches, shaft circumference 12 inches
Compare prices and selection on the Boutique 9 Daphnea – get free shipping from most or all listings:
Reviews: Click here for available reviews on this boot style
Shopping info:   While there are a few great merchants that carry this boot, our top recommendation is to buy it @ Zappos.com due to their consistently broad selection, competitive prices and free shipping and returns.  Other merchants have also been carrying this pick, check this page's full listings for a good view of who carries it, for what price and which colors are available.
Price checker link:  Search for this boot style @ eBay.com auctions