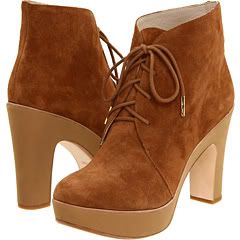 About the KORS Michael Kors Divina for Women:
Appropriately named, the KORS Michael Kors Divina Lace Up Bootie is just that – divine.  Constructed from either suede or leather for the upper, a lace up close design with a fun platform and high heel – simply a fabulous shoe and it would be hard to deny its "gorgeousness."  =)
Colors: Luggage Suede (shown in photo), Black Suede, Taupe Sport Suede, Burnt Orange
Sizing: This shoe is available in both full and half sizes for women, from 5 1/2 to 11
Dimensions: Heel height 4 inches, platform height 1.25 inches
Compare prices and selection on the KORS Michael Kors Divina Lace Up Bootie for women – get free shipping from listings below:
Reviews: Click here for available reviews on this bootie
Shopping info: While there are a few different places to purchase the Divina our favorite is @ Zappos.com.  Also these have been listed at Endless.com and Shopbop.com – it is a good idea to check the listings above carefully – you can compare prices from the different merchants and you should also note that often there are multiple color choices available for a single listing on this page.
Price checker link: Search for this women's bootie @ eBay.com auctions