The Women's Lucky Brand Joss Boot
Take the look of a rugged hiking boot, add some gorgeous touches such as a three inch heel and some quality leather and a structure for comfort and you have the Lucky Brand Joss boot.
This is one of a lineup of heeled hiking boot styles this year, and is not the least of the really hot looks.  Made from a greenish leather, lacing from the instep all the way to the top of the shaft.  Padding at the collar adds both function and style.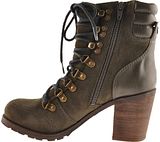 Colors:  Rich Green, Black, Sequoia
Sizing:  Available in women's full and half sizes from 5 to 10, known to fit true to size
Dimensions:  Heel height 3 inches, shaft height 5.5 inches
Shop for the women's Lucky Brand Joss – get free shipping from most or all listings:

Reviews: Click here for available reviews on this boot
Shopping info:  We recommend that you buy this boot @ Shoebuy.com.  Here is where we stumbled across it (with much delight), and is to this date the sole online resource to purchase it.  Shoebuy offers free shipping, free returns when needed.  As time goes on, other top selected merchants may carry it – if and when this happens you will see that in the listings here, allowing you to compare prices and selection from multiple online stores.
Price checker link:   Search for this boot @ eBay.com auctions