The hottest selling color – Classic Chestnut UGG Boots.  Compare prices and selection on the latest styles of UGG Classic Boots in Chestnut – all merchants trusted, safe and secure: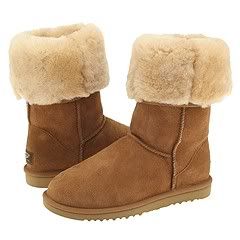 About Classic Chestnut UGG Boots for Women and Kids:
Ya just gotta love 'em.  These are the original classic UGG boots from UGG Australia – now available not only in their original (short and tall) versions, but quite a number of other versions as well.
Example: Last year (late 2009) the UGG Bailey Button Classic boots were released, adding a new level of looks to a classic style with an open side and a cute button with a closure.  This added a new twist for those who are looking for a but of added style.
Other classic styles: Well, truly the classics never die.  The hottest selling Chestnut UGG boots for women and kids are still the short and tall versions.  These (both styles) can be worn up in their more traditional position, or worn folded over for a bit of a different and shorter look (as shown in above version, with the tall classic for women).
Trusted name: With UGG Australia boots, you can get the looks and quality you want – and you can count on it!
Sizing: Sizing for these boots consistently is about the same.  Generally these boots will run about a size larger than a normal size, thus the correct way to purchase them (especially if buying online) is to get a size smaller than your normal – or if you wear a half size, to "down size" 1/2 size.  This will get the best fit.
Love 'em!  I have never heard of someone purchasing a pair of Classic UGG Boots (in Chestnut or another color) who didn't absolutely love the way that they look and feel.  There may be no more cozy way to spend one's time during the colder months of the year!  🙂
Price Checker Links – Find Classic UGG Boots in Chestnut: