Compare prices and selection on Cream UGG Cardy Boots for women – get free shipping and returns: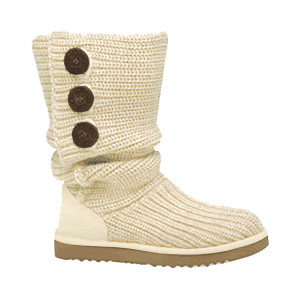 About Cream UGG Cardy Women's Boots:
Cream UGG Cardy boots are most definitely one of the most popular colors – evidenced by the fact that they can be so hard to find!  (I have had a bit of a time keeping them in stock from my favorite merchants.)  These are one of the most gorgeous looks around, providing versatility and a warm, "winter-ish" look.
Features: Crochet knit wool blend upper, suede heel guard for durable wear.  Sheepskin sock lining wicks away moisture from feet while keeping them snuggly warm.  EVA outsole is light and flexible – also adds durability and long wear.
Dimensions: 15″ height (boot shaft), 15″ circumference
Sizing Info: These boots are known to run large.  It is recommended to order one full size down (if you wear a full size) or 1 1/2 sizes down (if you wear a half size).  These boots are made to fit snugly when first put on and will conform to feet for the most comfortable wear.  Available in women's sizes only for this color.
Price Checker Links for the Cream UGG Cardy: