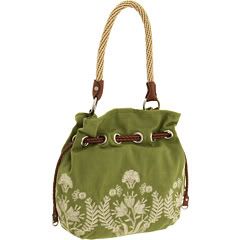 About the Fossil Camille Bucket Bag for Women:
**Sorry – this bag is no longer available from merchants.
This is a cute new addition to the Fossil collection this year, with a cute drawstring design and a detailed pattern at the base.  The striped version is adorable as well!
Details: Feminine style bag with a drawstring close style.  (There is also a magnet on the inside for extra security.)  It has a single shoulder strap (11″ drop).  Interior pockets.
Dimensions: Height 13″, width 12″, depth 7 1/2″
Colors: Green, Patchwork, Tan
Shopping info: At this writing this bag is available @ Zappos.  (That is of March 2011.)  Depending on the popularity and availability for it, it could come available from additional resources.  Listings above will give a good current look at the available colors and merchants who carry it over time.
Price checker link: Sorry, no price checker link is available for this item.