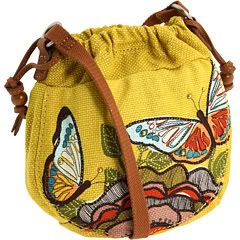 About the Fossil Camille Drawstring Bag:
**Sorry, this bag is no longer available
This bag comes in some gorgeous colors and is a great accessory for not only its looks but is a handy purse to carry in general.
Details: This Camille bag is a cute drawstring style with a couple of different and colorful print desings.  Constructed from canvas, single cross-body strap (drop is about 26″).  Drawstring closure, but also having an interior magnetic closure.  Back zip pocket on the inside.
Dimensions: Height 8″, width, 8″, depth 2″
Colors: Butterfly print, Rose print
Shopping info: Newly released, the best shopping resource for this bag is @ Zappos.com.  It may also come available at other merchant sites, and as its selection increases (or decreases), that will be reflected in the listings above on the page.
Price checker link: Sorry, no price checker link available for this item.