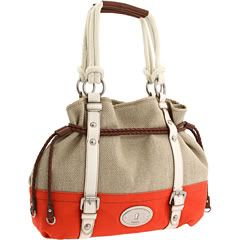 About the Fossil Camille Satchel:
**Sorry – this bag is no longer available from merchants
There is a really nice variety of colors and different designs for the Camille Satchel bag.  A cute style with some bold "trimmings."
Details: Constructed from fabric, printed fabric lining.  It has a magnetic closure, drawstring style.  It has two shoulder straps and fun detailing.
Dimensions: Height 12″, Width 15 1/2″, Depth 4 1/2″
Colors: Butterfly (print), Green, Grey, Patchwork, Rose, Tan, Tomato
Shopping info: There are two places in general that this bag can be purchased with a good selection – find it @Endless.com and @Zappos.com.  (See above listings on the page for the Fossil Camille Satchel for up-to-date selection, prices and merchants.)
Price checker link: Sorry, no price checker link currently available for this bag.