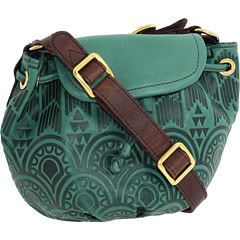 The Fossil Desi Crossbody Bag
Note:  This bag is no longer available from online merchants but you can click here to search for it @ eBay.com auctions.
Generally the Desi is constructed from canvas and leather, however materials will vary depending on the color purchased.  It comes in some fun and funky designs and patterns, ranging from earthy colors to floral prints.  It has detail accents and is in general quite a handy cross-body bag to own.
Colors: Camel, Espresso, Floral, Scarlet and Spruce (shown in photo)
Dimensions: Bag height 8.5 inches, top width 11 inches, bottom width 9 inches, depth 4 inches, strap length 50 inches, strap drop 24 inches
Reviews: Click here for available reviews on this Fossil bag
Shopping info: Did you know that you can find this bag @ Zappos.com?  Zappos is a great place to find handbags – not just shoes.  And the same rules apply when buying the product – if you don't like it you can return it for a refund or an exchange.  This bag can be found in a good number of colors here, in fact the best selection that we have found on the internet.  However, other resources to carry it in stock and in fact you might find that if you look over the listings on this page you can compare prices and selection.
Price checker link: Search for this bag @ eBay.com auctions