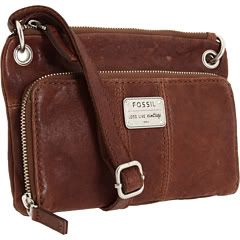 The Fossil Double Zip Crossbody Bag for Women
Details: The Fossil Double Zip Crossbody is a small bag, but definitely has a big fashion impact.  It has a gorgeous vintage appearance with a top zipper closure, as well as a front zipper pocket for more organization.  Carry it with a single adjustable cross-body strap.  It is constructed from a very soft leather and comes in several gorgeous colors including earthy tones as well as some brighter shades.
Colors: Black, Brown, Purple, Saddle, Scarlet and Spruce
Dimensions: Height 5.75 inches, width 8 inches, depth of 1 inch.  The strap length is about 55 inches, the strap drop about 27 inches.
Reviews: Click here for available reviews on this bag
Shopping info: There is quite a nice selection of colors for the Double Zip Fossil Crossbody bag @ Zappos.com.  This is our top choice, however as additional top merchants start carrying this bag you will see them reflected here, allowing you to compare prices and other merchants' color selections.
Price checker link: Search for this bag @ eBay.com auctions