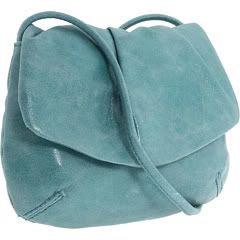 **Sorry – this bag is no longer available from merchants.  Click here to search for this bag @ eBay.com auctions.
Fossil Glazed Shirred Flap handbags are more simple in style than other bags from Fossil – but sometimes simple is more stylish!
This bag is lovely and it has a crossbody style which makes it even better and handier to use for everyday.  It is one of the smaller handbags, and is a good choice if you are only needing to take small essentials along with you.
Details: Crafted from glazed leather, this handbag is large enough to carry along your wallet, keys, cell phone and a few other personal necessities.
Dimensions: Height 6 inches, width about 8 inches, depth 1/2 inch
Colors: This handbag can be found in Marine (shown in photo), Tan, Pearl and Pink
Reviews: Click here for available reviews on this bag or to write a review
Shopping info: Recommended shopping for selection, competitive pricing and free shipping is @ Zappos.com.  As other resources come available, they will be added to the listings above on this page.  (Stay tuned for any markdown prices which may occur over time.)
Price Checker link: Search for this bag @ eBay.com auctions