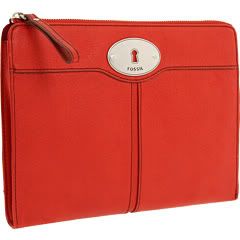 The Women's Fossil Maddox Technology Case
Details: The Fossil Maddox Technology Case is made from pebbled leather material, and is a good choice for holding a small laptop or netbook computer.  It features an easy top zip closing with a Fossil signature logo engraved on the outside top.  It also has a handy side zip pocket on the back for holding identification or small accessories.
Colors: Scarlet, Black (possibly more colors coming soon)
Dimensions: Height of 8 inches, width of 10.5 inches, 1 inch deep
Shopping info: At this writing this technology case is practically right out of the gate, and our top shopping recommendation is to buy it @ Zappos.com.  Additional resources such as Endless.com and others will be checked regularly and added as they are available.  The bottom line is that your best bet of finding it in the color you want is to check through the listings here on this page.
Price checker link: Search for this bag @ eBay.com auctions