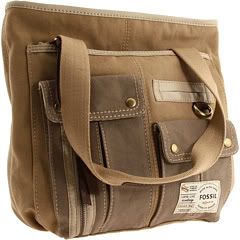 About the Fossil Morgan Fabric North/South Tote:
**Sorry – this bag is no longer available
This Fossil bag is a great way to stay organized – and it is available in a number of different colors to satisfy many women's preferences.
Details: General style of this back is a "North/South".  It has double shoulder straps, rear and front pockets and a zip top closing.  Flat bottom.
Dimensions: Height 13 1/2″, Width 14″, Depth 4″
Colors: Khaki, Olive and Stripe
Shopping info: The best shopping for this particular bag is @Zappos.com.  They have a good selection of colors, and the price is competitive.  (And of course they have free shipping – a definite plus.)  As more merchants and selection are available, you will find that in the listings above on the page.
Price checker link: Sorry, no price checker link is available for this item.