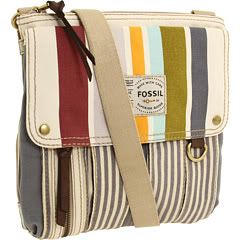 About the Fossil Morgan Fabric Traveler:
(Sorry, this item is no longer available.)
This is a comfortable canvas bag, with a number of great organizational features.  New style added to the Fossil collection coming into the spring season of 2011.
Details: Constructed from canvas material, crossbody design.  Front and back pockets, the drop of the crossbody strap is about 23″.  Interior lined with side pockets.
Dimensions: Height 11 1/4″, width 11″, depth 3″
Colors: Floral, Khaki, Olive, Rose, Stripe
Shopping info: Top shopping resource for this bag is @Zappos.com.  There is a good selection of colors and the prices are competitive.  (These bags may come down in price as well, as new bags are released.)  Check listings at the top of the page to find current selection and prices on this bag.
Price checker link: Sorry, no price checker link available for this item.