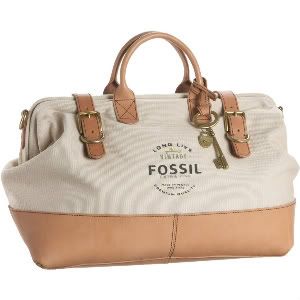 About the Fossil Vintage Re-Issue Frame Satchel for Women:
**Sorry – this bag is no longer available
A handsome new bag for women in 2011!  This satchel bag is lovely constrasting and soft colors, signature logo on the side.
More information on this bag:
Details: Constructed from cotton canvas, also with a canvas lining.  It has a hinged closure, the strap is attachable and adjusts in length from 11 1/2″ to 22″.  Handles have a drop length of about 3 1/2″.
Dimensions: Height 10 1/2″, Width 16″, Depth 6 1/2″
Colors: Natural
Shopping info: This bag has initiall been availble @Endless.com.  While it might come available from other resources (for price comparison purposes), this is where we have been able to find it.  (For a good current look at who carries this bag, additional colors and pricing, check listings above on the page.)
Price Checker Link: Sorry, no price checker link available on this item.