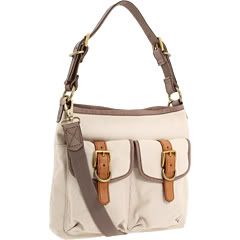 About the Fossil Vintage Reissue II Fabric Hobo Bag:
**Sorry – This bag is no longer available
The Fossil Vintage Re-issue lineup has a bit of a new look with the Vintage Reissue II collection!  This is a great choice in 2011 for those who love both style and function – these bags have an earthy and stylin' look to them, and we are sure that the "II" will meet or better our expectations for new handbags!
Specifically for this Hobo style bag, we are talking about vintage style with extra functionality – it can be used with either a shorter strap or a longer cross-body style strap.
Details: Constructed from a (very) soft canvas, with faux straps over the pockets (magnetic closure).  It has a zip top with interior pockets for holding all of your essentials and keeping things well organized.
Dimensions: Height 11.5″, bottom width 12.75″, top width 11 5/8″, depth 3″, short strap length 9.25″, longer strap length 10.5″,  longest strap length 25.5″.
Colors: The colors available for this bag include Cream and Navy
Shopping info: We have gathered available resources for this bag – below you will find available listings, all having free shipping and returns:
Price checker link: Check for this bag @ eBay.com