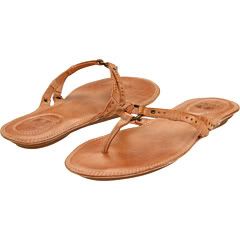 About the Frye Alessia Artisanal Flip Flop for women:
Details: The Frye Alessia Artisanal Flip Flop sandal is a welcome addition to the Frye collection this year.  It will likely be a popular favorite this summer, having an easy fit and look – yet the detailing ads so much and makes it so much more than a flip flop. Crafted with leather, treated carefully to give a gorgeous burnished finish. Details include a tiny brass ring in the center with studding on the straps.
Colors: Lots of colors for this flip flop!  Black, Cognac, Dark Brown, Dusty Rose, Gold Metallic, Natural, Red, Rose Gold Metallic, Silver Metallic, Slate, Yellow
Sizing: The Alessia Flip Flop is available in women's full and half sizes from 5 1/2 to 11.
The Frye Alessia Artisanal Flip Flop Thong Sandal for women – new for spring and summer of 2011. Compare prices and selection, get free shipping from below listings:
Reviews: Click here for available reviews on this sandal, or to write a review.
Shopping info: If you are searching for a single merchant site that we would call the "best" for buying this sandal, our recommendation to you is to buy it @ Zappos.com.  They feature an excellent color selection at this writing as well as competitive pricing and always excellent service.
To find current information on which merchants are carrying this sandal, check above listings – you can compare prices from different merchants as well as check out the color selection per merchant.
Price checker link: Search for this thong sandal @ eBay.com auctions