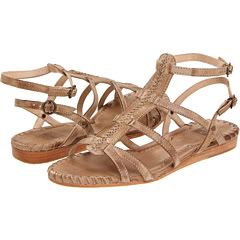 About the Frye Amelie X Stitch Sandal for Women:
The Frye Amelie X Stitch sandal has a fun strappy design with a cross stitch ("x") pattern detailed into  the leather.  The upper is constructed of full grain leather and has a T-strap design up the vamp and wrapping around the ankle.  It has just a touch of a platform for an added edge of style.
Colors: Black, Taupe, Copper, Navy Blue
Sizing: The Amelie X Stitch is available in women's full and half sizes from 6 to 11.
Dimensions: Heel height 1/2″
Compare prices and selection on the Frye Amelie X Stitch Sandal from listings below – get free shipping. (Note that Endless may have multiple colors for a single listing.)
Reviews:  Click here for available reviews on this sandal, or to write a review
Shopping info: At this writing (April 2011), there is one place that we feature and recommend for this sandal – find it @ Endless.com.  As time goes on, it will likely be found available from a couple of other merchants — when that happens we will be featuring it above on the listings for this page allowing for price comparisons and an up-front look at which merchants have certain colors available.
Price checker link: Click here to search for this sandal @ eBay auctions