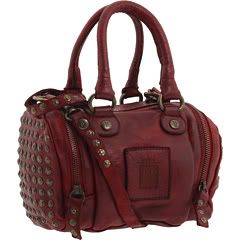 The Women's Frye Brooke Small Satchel
Note:  Sorry – this product is no longer available.  =(
Details: Stylish design and functional features is what the Frye Brooke Small Satchel is all about.
Constructed from a gorgeous worn looking leather, this bag has side zipper pockets as well as interior organizational pockets to provide a good amount of organization.  Also the style is an aspect of this bag that cannot be denied – it has studding on the sides, O rings as well as other subtle details that make this bag absolutely gorgeous.  Top it off with a convertible design so that this bag goes from a tote to a crossbody without a hitch.
Colors: Burnt Red (other color selections possibly being released)
Dimensions: Bag height 6.5 inches, a bit wider on the top with 8.75 inches while a width at the bottom of 7.5 inches.  The handle length is 11.5 inches, crossbody strap length 46 inches, strap drop of 25.5 inches.  This bag has a depth of 5 inches.
Shopping info: One single merchant that we have found at first release is to buy it @ Zappos.com.  While other resources may come available, this will likely remain the very best place online to buy it.  Check listings on this page as time goes on to find any other top merchants that carry this bag.
Price checker link: Search for this handbag @ eBay.com auctions