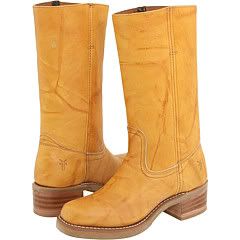 About the Frye Campus 12R:
Well, well, well. I finally found a "stumper"!  This boot is not easily found these days – at least as of this writing. That fact may change, but this appears to have possibly taken the lead of the "hottest" boots from the Frye Campus collection this year for women.
It's no wonder really – it is one of the hottest general styles around, and the bit of lower height is also very much in fashion.
I will be paying close attention to this one, and giving updated listings as time goes on – at this point however, it is a good idea to check the "Price Checker" listings below for your best chance on finding these boots.
Price Checker Links:
eBay.com
– Find auctions and eBay stores that have the Frye Campus 12R boot for women in stock.  Make sure to check the seller's rating before bidding.