Compare prices and selection on the women's Frye Carson Riding Boot – get fast free shipping: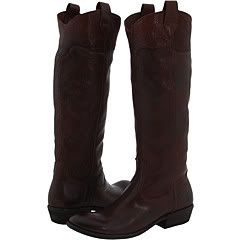 About the Frye Carson Riding Boot for Women:
The Frye Carson Riding boot is a whole new look in the women's Frye collection – it features the lovely combination of a tall and sleek riding boot with the fun and casual look of the Carson western boot.
Since the release of this boot some months ago, more and more women have heard about the looks, comfort and extreme style that this boot offers – there is no other boot quite like it!
Colors: Available in some gorgeous rich colors including Black Leather, Emerald Leather, Slate Leather and Dark Brown Leather.
Sizing: These boots are known to fit about 1/2 size large; recommended to purchase 1/2 size down from your normal.
Reviews: Click here for reviews on this boot
Price Checker Links for the Frye Carson Riding Boot: