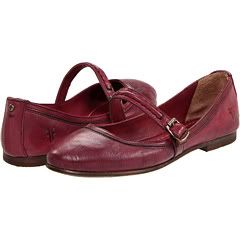 The Women's Frye Carson Trapunto MJ
**Note:  The Carson Trapunto Mary Jane is no longer available from merchants online.  Click here to search for it @ eBay.com auctions.
Constructed from ultra soft yet durable leather, the Frye Carson Trapunto Mary Jane is one of the more delightful styles available to women this year.
Ideal for work, casual or a night on the town, this shoe has a slip on style and also has an outsole and a general construction that is made to last.  Available in some gorgeous rich colors – the perfect "staple shoe" for women to wear everyday with just about anything.
Colors: Dark Brown, Bordeaux and Tobacco
Sizing: Available in both full and half sizes for women from 7 to 11
Shopping info: For both competitive pricing as well as selection of color and sizes, we recommend that you buy it @ Zappos.com.  Not only will you likely find the best selection here, but they also have excellent customer service and free shipping and returns service.  As additional resources begin to carry this shoe, you will find that reflected on this page.  (**Note:  This shoe is no longer available from online merchants.)
Price checker link: Search for this women's shoe @ eBay.com auctions