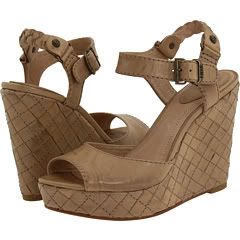 About the Frye Corrina Woven Ankle Strap:
This is such an interesting look – the leather for this sandal is woven into a quilted design.  (Leave it to Frye to break ground in the fashion scene!)
Details: This is a lovely platform sandal with a springtime look to it.  Leather upper, unique braiding for the heel strap.  Soft leather footbed, rubber outsole.
Sizing: Available in full and half sizes from 5 1/2 to 11.  (Note that sizing range will differ based on merchant availability.)
Dimensions: Heel height 4 1/2 inches, platform 1 inch
Colors: Off White, Taupe
Compare prices and selection on the Frye Corrina Woven Ankle Strap Sandal – featured sandal from Frye. Get free shipping from listings below:
Reviews:  Click here for available reviews for this sandal, or to write a review
Shopping info: Two resources online stand out as being the top merchants for the Frye Corrina Woven sandal – Zappos.com (no longer available) and Endless.com.  Either resource will provide competitive pricing, free shipping and great service.  As more merchants carry this sandal, that will be reflected in the listings above on the page.
Price checker link:  Check prices for this sandal on eBay.com