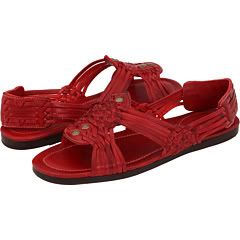 About the Frye Jacey Studded Huarache Sandal for Women:
The Frye Jacey Studded Huarache sandal for women has so many good things about it that it is difficult to list them all!  To start with, it is beautifully constructed with plenty of intricate details, its leather is constructed from delicate woven leather straps and there are quite a number of colors it can be found in, making it extremely tempting to purchase multiple pairs!  These just may be the perfect warm weather "go to" sandal for this year of 2011.
Colors: Plenty of color choices!  Red (shown in photo), Aqua, Black, Black Multi, Cognac, Dark Brown, Dark Brown Multi, Gold Multi, Green, Orange, Purple, Violet and Yellow.
Sizing info: This sandal is available in full and half women's sizes from 5 1/2 to 11
Frye Jacey Studded Huarache Sandal – Compare prices and selection from available merchants – get free shipping from all listings below. (Note that single listings may have multiple colors selections):
Reviews: Click here for available reviews on this sandal, or to write a review
Shopping info: We found this sandal in "all of its glory" (meaning in all of its color choices) @ Zappos.com.  As time passes it will likely become available at other merchants — you will see that reflected in the listings above on this page as it occurs.  (And, with its popularity we predict that more and more merchants will be scrambling to carry it in stock.)
Price checker link: Click here to search for this sandal @ eBay auctions