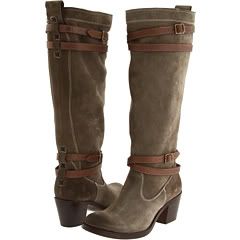 The Women's Frye Jane Strappy Boot
Details: The first words that come to mind about the Frye Jane Strappy boot are "my oh my — oh my."  =)
Here is an absolutely stunning boot that is very likely to sweep women off their feet this year – so to speak.  Sleek, tall, and yes, it is strappy with thin strapping wrapping around the boot both at the bottom and at the top of the shaft.  This boot is of course crafted from top quality leather, and a feminine look with a heel that provides a bit of a lift.
Colors: Fatigue Suede/Veg Tag (shown in photo), Charcoal, Dark Brown, Stone Suede/Veg Tan, Tan
Sizing info: The Jane Strappy boot is available in both full and half sizes for women from 5 1/2 to 11.
Dimensions: Heel height 2.5 inches, shaft height 16 inches
Compare prices and selection from top merchants on the Frye Jane Strappy women's boot – get free shipping from most or all listings. (Note – single listings may offer multiple color selections.)


Reviews: Click here for available reviews on this Frye boot
Shopping info: While this boot has popped up in various merchants' shops online, there are a few merchants that we prefer over others – the tip top of which is to buy it @ Zappos.com.  Good selection, competitive pricing and always free shipping and return service.
Price checker link: Search for this boot @ eBay.com auctions