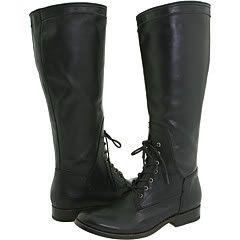 About the Frye Melissa Riding Boot Styles:
Shoppers may or may not be aware of this fact – when searching for the "Frye Melissa Riding Boot", there is a style that is of course designed as a riding boot (and bears "Riding" in it's name), but there are actually a few riding inspired Frye Melissa boot styles — here they are:
Frye Melissa Riding Boot: As mentioned above, this is the boot that explicitly has the title of a riding boot – in photo shown left.   Gorgeous, vintage appearance with rustic looking lacing up the front to just below the mid-calf area.  This is a nice "diversion" from other riding boot styles for women from Frye with it's unique look.
Melissa Button Frye Boot: Yes, the "Melissa Button" is also a riding inspired boot, sleek long upper and classic pull on style with dual pull straps.  This boot is the current "hot ticket" as of this writing.
Frye Melissa Honeycomb Boot: I just spotted this boot among the other "Melissas" – it is my personal favorite.  Still a very feminine boot, but with the added extra flair of a studded harness lying (ever so exquisitely) about the ankle area of the boot.  Nice.  =)
Note on other styles: I am betting on there being more boots added to the Frye Melissa Riding Boot lineup – as they are added (or sadly taken away), you will see that reflected in the listings above.
Price Checker Links: