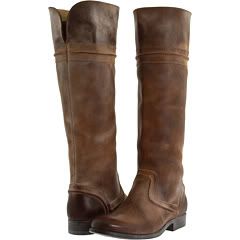 The Women's Frye Melissa Trapunto Boot
Details: Here is quite a versatile style within the Melissa boot collection – the Frye Melissa Trapunto boot.
With antiqued leather, pull up design, this boot has a vintage style that women will either envy or be proud of when wearing.  It is versatile due to its ability to be worn up at full 17 inches for the shaft, or folded over for a bit of a snazzy and unique look.
Colors: Tan, Cognac
Sizing: Available in women's full and half sizes from 5 1/2 to 9 1/2
Dimensions: Heel height 1 inch, shaft height 17 inches, shaft circumference 15 inches
Shop for the Frye Melissa Trapunto women's boot – Note: Single listings may feature multiple color selections:
Reviews: Click here for available reviews on this boot
Shopping info: There are a couple of places that are recommended to purchase this boot, but our top recommendation is to buy it @ Zappos.com due to their excellent selection of sizes and colors, as well as competitive prices and free shipping and returns.  Other resources are available as well, and likely even more online merchants will carry it over time.  Bottom line:  This page will reflect the best merchants' selections and prices, so if you have not yet decided on this purchase, bookmark this page and check back to see changes.
Price checker link: Search for this boot @ eBay.com auctions