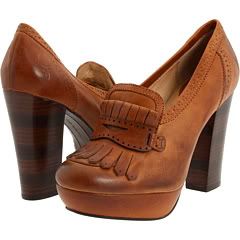 The Women's Frye Naiya Kiltie Moccasin Style Platform Pump
Note:  Sorry, this shoe is no longer available from merchants online.
What a darling addition to the women's Frye collection this year – the Frye Naiya Kiltie Moc pump.  Made from gorgeous brush off leather, with a kiltie on the front to add quite an eye catching look.  Give this style a lift with a 3+ inch heel and a platform and you might just have the perfect shoe for the fall and winter seasons this year.
Colors: Black, Dark and Tan
Sizing: Available in women's full and half sizes from 5 1/2 to 11
Dimensions: Heel height 3.5 inches, platform height 1 inch
Shopping info: **Update – no longer available.) There are a couple of places online where we suggest buying this boot – buy it @ Zappos.com or Shopbop.  Either place is competitive, while Zappos provides free shipping.  Other resources will very likely come available and as the very best online stores provide it you will see that in the listings on this page.
Price checker link: Search for this women's shoe @ eBay.com auctions