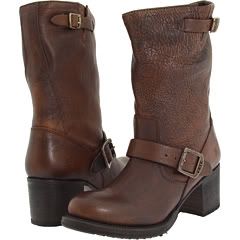 The Women's Frye Vera Short Boot
If you like the look of a rather short, Engineer style boot the Frye Vera Short might be right up your alley.  Following in the footsteps of the Frye Engineer boot, this selection has some subtle differences including the added feminine touch of a bit more heel height.  A gorgeous choice with jeans, or with other special ensembles that look fabulous with a mid-calf height boot.
It is constructed from a special vintage style leather, has a pull on style with strap over the top of the foot and again at the top of the shaft.  A bit of a saggy or slouchy look to the shaft is ultra stylin'!
Colors:  Maple and Black Calf Shine Vintage Leather
Sizing:  The Vera Short boot comes in both full and half sizes for women, from 5 1/2 to 11
Dimensions:  Heel height 2.25 inches, shaft height 9.5 inches, shaft circumference 14 inches
Compare prices and selection from available top merchants on the Frye Vera Short women's boot – Note – Single listings often offer multiple color selections:
Reviews:  Click here for available reviews on this boot
Shopping info:  Our recommendation is to buy this boot @ Zappos.com.  You will find very likely either the best selection or one of the best, along with competitive prices, free and fast shipping and free returns service.  As time passes, you have the option of continuing to check this page to find out which other top merchants are carrying the Vera Short, at what price and what kind of color selection.
Price checker link:  Search for this boot @ eBay.com auctions