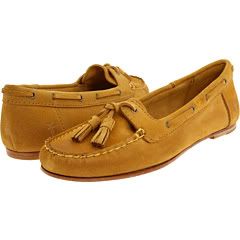 About the Frye Wendy Tassel Moc or Moccasin for Women
For those ladies who either like a comfortable and classic boat shoe style, or a soft and easy to wear moccasin, the Frye Wendy Tassel will likely be just what you are looking for.  Available in rich and warm colors – and made to be comfortable enough to wear all day!
Details: Constructed with soft suede, lacing around the opening of the shoe, fun leather tassel detailing.  It features a leather outsole and rubber heel for traction.
Colors: Fun variety!  Blue, Mustard, Pink, Purple
Sizing: This shoe is available in full and half sizes for women, from 5 1/2 to 11
Compare prices and selection on the Frye Wendy Tassel Moccasin for Women – get free shipping from listings below:
Reviews: Click here for any available reviews on this shoe, or to write a review.
Shopping: Our first choice on where to buy the Frye Wendy Tassel is from Zappos.com.  This gives you probably the best selection online in terms of single merchants, and is renowned for its excellent customer service.  You also get free shippinng.  As additional merchants start carrying the Wendy Tassel, that will be reflected in sales listings below, allowing for price and color comparisons by merchant.
Price checker link: Search for these shoes @ eBay.com auctions