Compare prices on an amazing selection of women's buffalo leather boots from the Lucchese 1883 collection – get free shipping and returns from all merchant listings: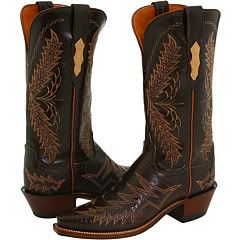 About Lucchese Women's 2883 Buffalo Boots:
The gorgeous look and feel of this special buffalo leather is hard to beat – and Lucchese makes these boots stylish beyond belief!  =)
There are quite a number of choices when it comes to the selection of buffalo leather boots from the 1883 collection – just about any color or combination of colors — in both taller (below the knee) and mid-calf heights.  Some of the most gorgeous boots available for women today!
List of popular styles from the 1883 collection with buffalo leather:  N8662, N4551, N4069, N8663, N8618, N4070, N8644, N4662 – and yes, there are more but these are the highlights!  =)