Compare selection and prices on goat leather boots for women from the Lucchese 1883 collection – get free shipping and returns from these listings: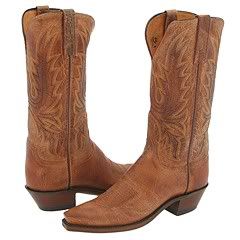 About Lucchese 1883 Goat Boots:
"Goat Boots" have become one of the more specifically sought-out boots for women from the 1883 Lucchese collection.  The leather is strong, and Lucchese makes them to fit beautifully – no other boot fits quite like it.
The Lucchese 1883 "Goat Boots" come in a number of different colors, designs and even heights.  Much loved boots by women from many walks of life!  =)
List of boots (as of this writing) included in the Lucchese 1883 Goat leather boots lineup: N4540, N4559, N8638, N8661, N4540, N4554, N4513, N4536 — and many more!  All heights including a taller (below the knee), mid-calf and ankle style boots grace this collection, making it an amazing choice in boots for just about any lady's tastes!
And – all of them have a different look, and you can count on the quality craftsmanship that is standard with Lucchese.