Compare prices and selection on various styles of lizard boots for women from the Lucchese 1883 collection – get free shipping and returns: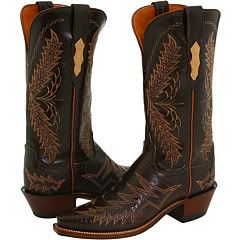 About Lucchese 1883 Lizard Boots for Women:
Most often when searching out "lizard boots" from the 1883 Lucchese collection, I have found lizard combined with other forms of leather for the upper.  The lizard adds so much to the look of the boots, adding a texture and sleek look like no other!
There are quite a number of styles in the lizard styles, including the N4069 (shown in left photo), N4002, N4070, N4068, N6007, N6008.  As of this writing, that is all that could be found in this collection — but there is no lack of style whatsoever, in fact they are some of the most gorgeous boots available from the entire Lucchese collection.