Buy the Lucchese N8655 women's boot from the Lucchese 1883 collection – get free shipping and returns: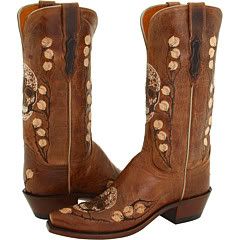 About the Lucchese 1883 N8655 Boot for Women:
What a lovely combination of feminine and classic – the N8655 women's boot!  I love the detailing and the soft color contrast offered with this version from the 1883 collection!  (It also provides more than a touch of "edgy" with the skull detailing on the upper, with a contrasting idea of a floral design!)  Luxurious leather, superb craftsmanship.
Product Details:
Made in the USA
Shaft height: 12 inches
Shaft circumference (top): 13 inches
Heel height: 1 1/2 inches
Fit: This boot is known to fit true to size; Lucchese boots should fit snug about the instep portion of the boot