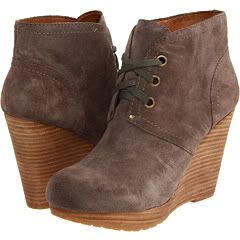 The Women's Lucky Brand Norice Ankle Bootie
It is no accident that the Lucky Brand Norice bootie is being featured here at The Fashion Fiend – this is such a simple style that it is versatile enough to compliment many different types of ensembles, while having some looks that will certainly be turning some heads. 
This generally is a wedge platform bootie style, with a suede upper construction and some lacing to add a sharp look.  Quite a bit of heel height to give ladies a boost and is cushioned inside for more comfortable wear.
Colors:  Black, Sequoia and Iron (shown in photo)
Sizing:  The Norice comes in sizes from 5 to 10 in both full and half sizing
Dimensions:  Heel height 3.75 inches, platform height .75 inch, shaft height 5 inches, shaft circumference 11.5 inches
Shopping info:  We were pleasantly surprised to find two of our favorite merchants that carry this boot for a great price with free shipping, and we recommend most highly that you buy this boot @ Shoebuy.  They provide free return service if and as needed.  Other than that resources, your best bet is just to keep checking this page since we will be keeping our listings updated with top merchants that carry this fun bootie style.  **Note – This bootie is no longer available from merchants online.  Use the link below to find any available…
Price checker link:  Search for this bootie @ eBay.com auctions