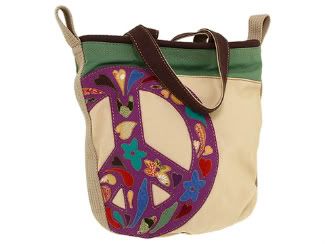 About the Lucky Peace Bag Collection:
**Sorry – these bags are no longer available.
One of the most creative ideas in handbag styles in the twenty-first century – Lucky Brand "Peace" bag styles for women. These bags range from colorful to patchy to sparkly.
Gorgeous bags with some serious style – another fun and trendy idea from Lucky Brand.
Favorite: My personal favorite is the bag above – "Lucky Brand Peace Sign Novelty Patch Update". The recent popular favorite is the "Brown Sugar" with the peace sign embroidered on the side. Both very cute!