Compare prices and selection on the women's Melissa Button Frye Boot – get free ship and returns: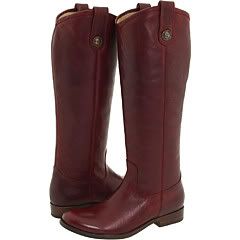 About the Melissa Button Frye Boot:
The Melissa Button has arrived – and women are loving it! This is a gorgeous boot with a long, sleek, riding inspired boot design. It has quite recently (as of this writing) become quite a "hot ticket" in the Frye lineup!
Features: Luxuriously soft leather upper, pull on design with pull tabs.  Cushioned leather insole to provide long-term comfort.  1 inch heel.
Dimensions (Based on a sizee 6 1/2): 15 inch shaft height, 14.50 inch circumference
Reviews:  Click here for consumer reviews for this boot.
Price Checker Links: