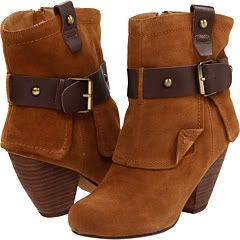 The Women's Naughty Monkey Gadget Ankle Boot
The Naughty Monkey Gadget is one of the more unique booties coming from this creative footwear company – and that is really saying something!  These ankle boots will be turning heads everywhere.
Constructed from suede for the upper, with leather strap detailing.  Add some metal detailing on the straps and you're all set to take over the world — or at least look great.  =)
Colors:  This bootie comes in Tan, Black, Chocolate and Taupe
Sizing:  Available in both full and half sizes for women from 6 to 10
Dimensions:  Heel height 3 inches
Compare prices and selection on the Naughty Monkey Gadget – Note – Multiple color selections may be available with single listings:

Reviews: Click here for available reviews on this bootie
Shopping info:  Our favorite tip on this bootie is to buy it @ Zappos.com due to the best selection of merchants online for colors and sizing – also you will get free shipping, free return service and helpful friendly customer service when needed.  Other merchants carry this boot, and likely there are more to come.  Stay tuned to this page for current merchant selection and prices.
Price checker link:  Search for this ankle boot @ eBay.com auctions