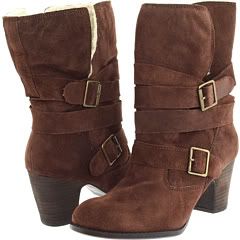 The Women's Nine West IHeartNY Boot
For all of us ladies who have a penchant for The Big Apple, here is the Nine West IHeartNY boot.  Whether or not you are a New York resident, this boot is a gorgeous choice for the colder months of the year to create an eye catching look – part of the Vintage collection from Nine West.
Constructed from suede for the upper, with buckled straps that wrap around and wrap around again for an added touch of personality.  The sole is cushioned, the interior is graced with warm and soft lining, designed for comfort – and of course style.  =)
Colors:  Black, Medium Brown, Dark Brown, Grey and Taupe
Sizing:  The IHeartNY boot is available in full and half women's sizes from 5 to 12.
Dimensions:  Heel height 2.5 inches, platform height .25 inch, shaft height 8.5 inches, shaft circumference 15 inches
Compare prices and selection on the Nine West IHeartNY women's boot – get free shipping from most or all listings:
Reviews: Click here for available reviews on this boot
Shopping info:   While there are a few places online that are good choices to buy the IHeartNY from Nine West, our top suggestion is to buy it @ Zappos.  There you will likely find a superior selection so you can pick whatever color you want and in the right size.  Also you can swing free fast shipping and returns service when needed.  Other than Zappos, you might choose to compare prices and selection from other merchants – if that is the case, give a good look to the listings on this page to find out who sells it, for what price and in what size. 
Price checker link:  Search for this boot @ eBay.com auctions