Compare prices and selection on various shades of Pink UGG Cardy for women and girls – get free shipping and returns: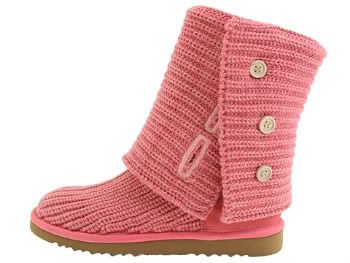 About Pink UGG Cardy Boots:
There are a number of different shades of Pink UGG Cardy boots – they include Sorbet pink (shown in photo left) for both women and girls, Pink Multi (for girls) and occasionally the color "Mulberry"  can be found – but that particular shade is not as easy to come by.
Various shades of Pink in the UGG Classic Cardy collection have come and gone – this year there is a lovely set of shades to choose from.
Features: Wool knit crochet knit upper, suede heel guard and light, flexible EVA outsolde for durability.  Sheepskin sock lining wicks away moisture from feet while keeping them snuggly warm.
Boot Dimensions (based on women's size 6): 15″ height (boot shaft), 15″ circumference
Boot Dimensions (based on Youth size 2): 6.50″ height (boot shaft), 12 1/2″ circumference
Sizing Information: The UGG Cardy boot is known to run a bit large and is available only in full sizes.  If you wear a full size, purchase one size down from your usual; if you wear a half size, it is recommended by UGG Australia to purchase 1 1/2 sizes down from normal.
Price Checker Links for Pink UGG Cardy Boots: