There are some lovely selections for Sand Classic UGG Boots for women and kids this year – below you will find the current selection – compare prices and selection from trusted and safe merchants.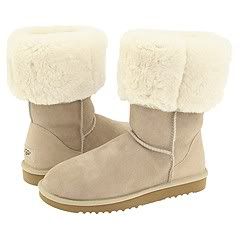 About UGG Classic Boots in Sand for Women and Kids:
There is just something about the softness of the color "Sand" along with the soft look and feel of classic UGG Australia boots!
This year, there are even more choices to pick from among the Classic Sand UGG lineup – including:
Classic Tall:  Here is the one of the original and much loved classics from UGG Australia.  Can be worn all the way up (rising just below the knee) or folded over for a mid-calf look.
Classic Short: Again, an all-time favorite.  This is a great way for those ladies and kids to tuck their jeans in for a great look!  Also – this version can be folded down for a shorter appearance.
Bailey Button: Now available in two different heights (the original Bailey Button and now the "Triplet" taller version.
Sizing: For any of the classic styles of UGG boots, it is a safe bet to purchase 1/2 to 1 full size above your normal.  (These boots are available in full sizes only.)  The fit originally should feel a bit snug, and will stretch a bit and conform to the shape of the foot for the ultimate in comfort.
Price Checker Links: