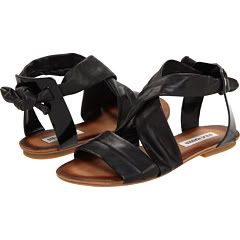 About the Steve Madden women's Bretta sandal:
Note:  This sandal is no longer available from merchants – click here to search for it @ eBay.com auctions.
The Bretta sandal from Steve Madden is a unique and extremely stylish look in footwear for 2011.
It has a slip on style with tie straps which have a distinct wrap around and sultry look.  Upper constructed from leather, slightly cushioned footbed, lining is man made.
Colors: Black, Cognac, Grey
Sizing: Available in full sizes from 5 to 10 for women.
Shopping info: To find the best selection and merchant deals on the Bretta from Steve Madden, check listings above on the page.  They are kept up regularly to provide as accurate information as possible on which top merchants carry it online, which colors each merchant offers and for what price.  (Note that any listings given from Endless may offer multiple color choices on their site from a single listing here.)
In terms of merchants, our top recommendation is to buy it @ Endless.com (no longer available).  You get free shipping (always), excellent customer service and free returns when needed.
Price checker link: Search for this sandal @ eBay auctions