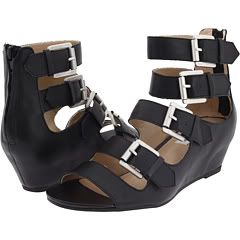 New for 2011 – the Steve Madden Tobago Sandal for women:
**Note:  This sandal is no longer available from online merchants.
I have been awaiting the release of the Steve Madden Tobago!  "Way back" in March, I spotted this one as a new style, not yet released into the Steve Madden collection.  I believe that the Tobago sandal will be one of the "hot tickets" of 2011.  =)
Constructed with a leather upper with 5 straps in all – the top 4 are buckled for both a great fit and a bold fashionable look.  It has a slight wedge heel, and a slightly cushioned footbed.
Dimensions: Heel height 1.75 inches
Colors: Black and Brown leather
Sizing: Available in both full and half sizes, from 6 to 11
Reviews:  Click here for available reviews on the Tobago sandal
Shopping info: Our top pick in terms of merchants to purchase the Tobago is to buy it @ Endless.com.  You will find probably the best selection from online merchants, competitive prices and free shipping and returns if and as needed.
Over time merchants will come and go that carry this particular sandal.  As they come and as they go, you will see that reflected in the listings above on this page, allowing you to compare prices and color selections from our picks of online stores.  (Note that Endless may actually have multiple colors available from their site, with only a single listing here.)
Price checker link: Search for this sandal @ eBay.com auctions