Compare prices and selection on Sweater UGG Boots for women and kids – get free shipping: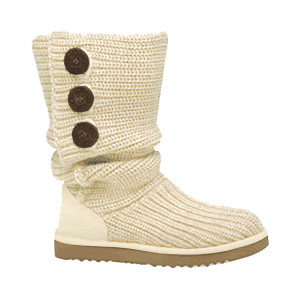 What exactly are Sweater UGG Boots?
Over the past couple of years the soft, warm and romantic look that is available with sweater UGG boots has become increasingly popular with women and girls.
Technically, the "sweater" boots from UGG Australia fall into a category of either a knit or crochet stitch upper and boot shaft with a slouchy look and feel and the ultimate in versatility – with the general appearance of a sweater for the feet!
About comfort: These boots offer the ultimate in comfort with their soft upper and sheepskin inner lining.  They can be worn with or without socks, but for the ultimate in wear and to experience how comfortable they can actually be, I recommend wearing them without socks.  Some women even claim to wear these around the house as slippers due to their feel.
The List: Sweater UGG Boots include the Classic Cardy UGG Boot, Argyle UGG Boot, UGG Classic Knit Stripe.
Price Checker Links: